Imagine a world
without cancer.
THIS IS YOUR CHANCE TO MAKE THIS VISION A REALITY.
Join an inspired group of philanthropists, innovators, and visionaries who are amplifying the Sylvester Comprehensive Cancer Center's transformational $126 million gift – the largest in the University's history.
JOIN THE MATCHING GIFT CHALLENGE.
Your contribution of $1 million or more. will be matched 2 to 1 from this historic $126 million gift given in honor of Stephen D. Nimer, M.D., director of Sylvester. For example, we will match $1 million with $500,000 or $2 million with $1 million. Your commitment will support the brightest minds and accelerate groundbreaking research at Sylvester. With your help we can save more lives.
I AM INTERESTED IN BECOMING A SYLVESTER VISIONARY
Our Visionaries
Susan Dinter
SYLVESTER VISIONARY
"My hope is that one day, we can say, 'Here's a pill for cancer.' This may not happen in my lifetime, but I know that every dollar gets us closer to the cure."
Steven Dwoskin
SYLVESTER VISIONARY
"I had to do something. I thought with my help, maybe Sylvester can find a cure. I needed to know I could make a difference."
Paul and Swanee Dimare
SYLVESTER VISIONARY
"We've come such a long way in curing cancers, and Sylvester has done such a wonderful job with the research and their talent. We're happy to support their efforts."
Your Legacy
Celebrating your
Legacy of Giving
The impact of your legacy of giving is priceless. We will celebrate your support with a special Visionary Dinner and an exclusive presentation of breakthrough research at Sylvester, delivered by Dr. Nimer and leading physician-scientists. The timing and location of this event will take all COVID-19 health and safety guidelines into consideration.
Stephen D. Nimer, M.D.
DIRECTOR, Sylvester
Comprehensive Cancer Center
You are a Visionary
I believe you can help engage brilliant minds and accelerate scientific innovation to cure cancer. Will you join us to amplify Sylvester's impact and save more lives? I look forward to hearing from you.
Take the first step and share your interest.
Your Impact
Engage
Brilliant Minds
Sylvester Visionaries can endow professorships and help us attract the best and brightest faculty physicians-scientists from all over the United States. Support our efforts to retain the brilliant Sylvester faculty already making research breakthroughs in our quest to find the cures for cancer and save lives.
---
Accelerate
Scientific Innovation
Sylvester Visionaries can support scientific breakthroughs in immunotherapy and gene therapy and help us develop novel therapies that offer a lifeline for millions of cancer patients.
---
Strengthen
Research Infrastructure
Sylvester Visionaries can fortify laboratory and technology infrastructure, from cutting-edge imaging technologies to comprehensive data systems, to support state-of-the-art biomedical research that facilitates innovation, speed, and collaboration in our pursuit of the cures for cancer.
SYLVESTER
BY THE
NUMBERS
Like any great team, Sylvester's numbers tell our story. Our statistics show the journey of how a Cancer Center, and its community, worked collectively to achieve the most prestigious title—National Cancer Institute (NCI) designation—in pursuit of your cure.
HELP US SAVE MORE LIVES.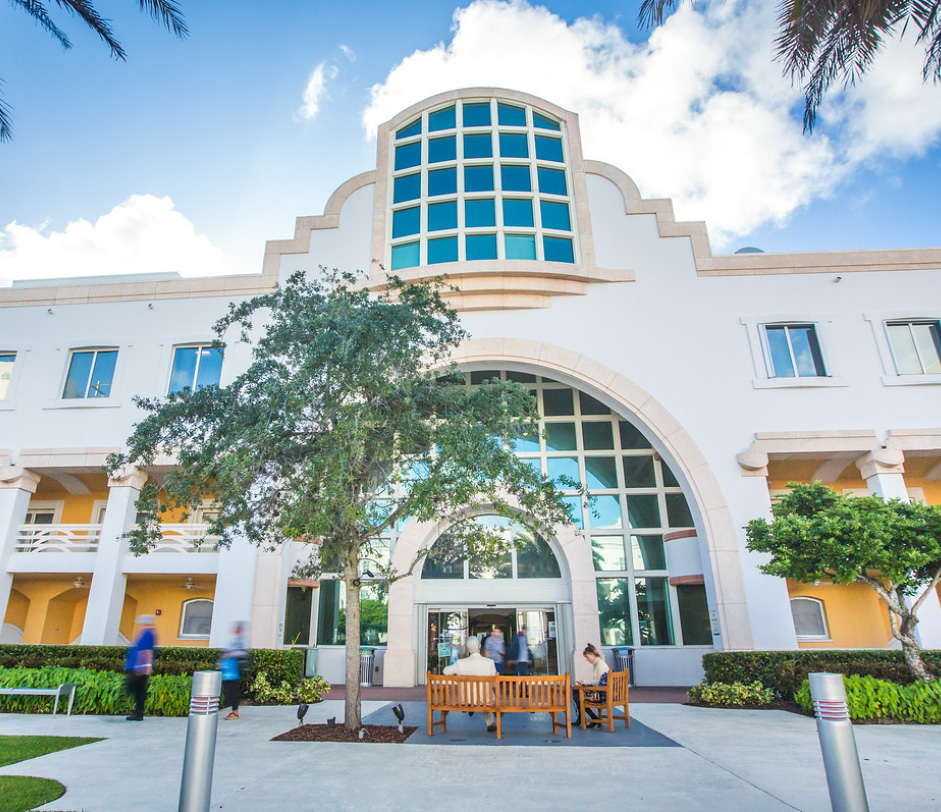 1st
and only, NCI-designated Cancer Center in South Florida
365+
physicians and scientists dedicated to cancer care and research
251
Clinical Studies (Interventional and Non-Interventional)
8,500
Newly diagnosed cancer patients
10
Treatment Facilities Across South Florida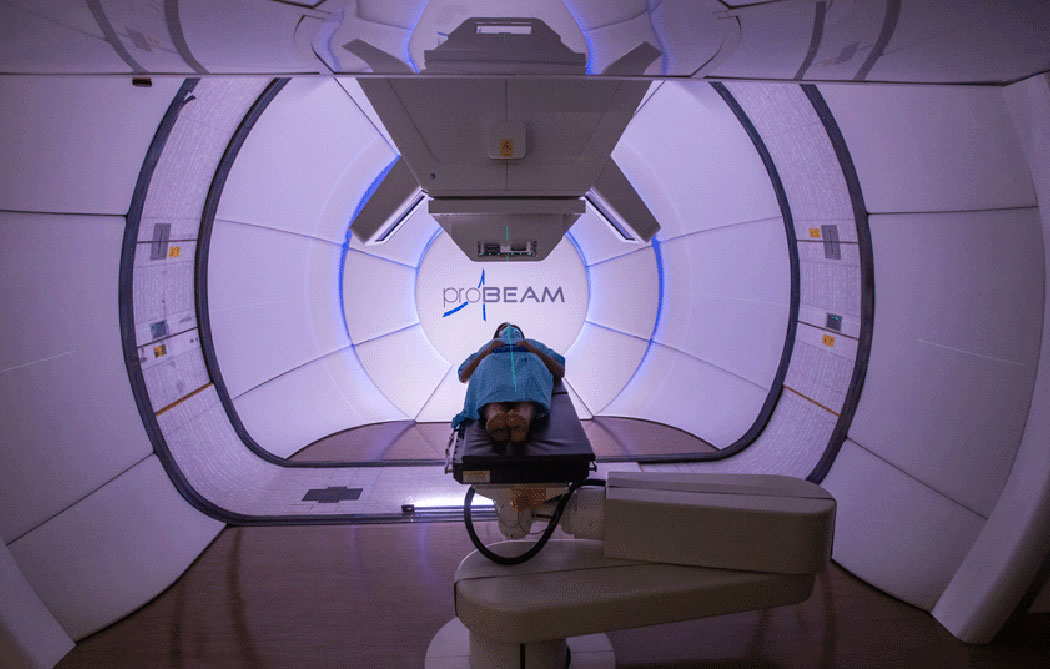 Sylvester Announces
Opening of the Dwoskin
Proton Therapy Center
Sylvester patients are now being treated with proton therapy, an advanced type of radiation that is extremely precise. The Dwoskin Proton Therapy Center is named after Steven Dwoskin for his generous gift to support cancer research at Sylvester and the new cutting-edge facility. Read More.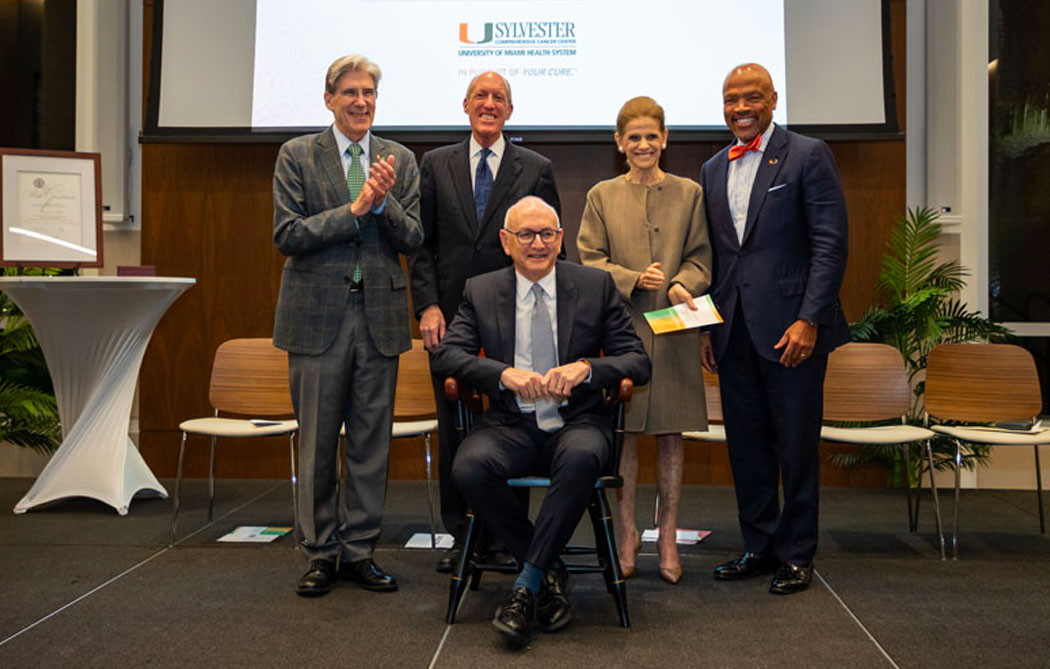 Dr. Stephen D. Nimer
honored with
endowed chair
Dr. Stephen D. Nimer, director of the Sylvester Comprehensive Cancer Center, which recently received a prestigious designation from the National Cancer Institute, has been named the inaugural holder of the Oscar de la Renta Endowed Chair in Cancer Research. Read More.
A message from Stephen D. Nimer, M.D.
Remember to close out of the video and visit the Sylvester Visionary site to find out more about the matching program. Your password: visionary
Sorry That passcode is not accepted.
Enter site
WITH YOUR HELP WE CAN SAVE MORE LIVES.